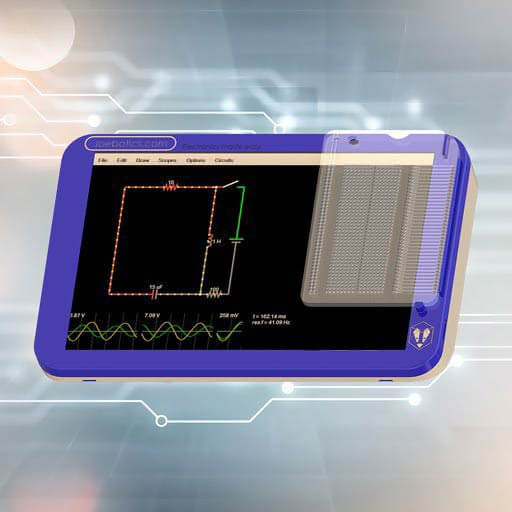 The BadgerBox
Joebotics knows the Maker community. We understand an innovator's journey from idea to realization and how frustrating and time-consuming prototyping can be. From students and part-time Makers actualizing their electronics and embedded software, to advanced engineers creating complicated circuits, we know first hand the challenges the Maker community faces and designed The BadgerBox as a complete solution.
The BadgerBox is the world's first integrated development environment for embedded programming and circuitry development. The BadgerBox connects to the BadgerBoard, a next-generation clear breadboard that lights your way, walking you through the circuitry development process step-by-step, so you can learn electrical engineering fundamentals while you create. Experience your project in real time through a circuit schematic and wizard interface, showing you where to plug each component into the breadboard by providing visual and text feedback, simplifying the bread boarding process. Learn as you build, unrestricted by your knowledge base, bringing newly learned concepts, techniques and ideas to life while collaborating with others in the maker community through unique, online tools that allow for instant communication on ideas and projects.
Together, the BadgerBox and BadgerBoard make it easy for Makers to collaborate on ideas, design, build and test their creations and share the finished result.
My hope is that the BadgerBox will create a context for a bunch of people who may never have even tried electronics or programming to just cut their teeth on it and see that they can do it and to get really excited about the possibilities of building interesting things just because it would make them happy"-Badger Maisel, CEO of Joebotics
Inventor of the BadgerBox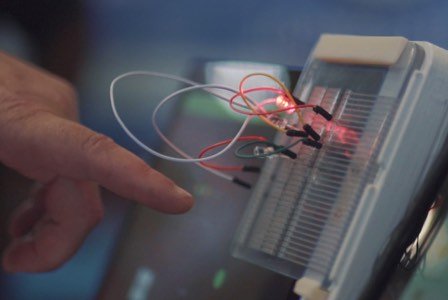 Hardware Components:
The BadgerBox Tablet Computer:

10" inch resistive touch display @1024×600
6-8 hours battery time, integrated USB charger
Custom PCB
Standardized GPIO coupling

The BadgerBoard next-generation clear breadboard
Software Components:
Raspian
Nodejs
Cloud 9 / Ace IDE
Scratch
Joebotics Simmer
Joebotics Burner
Joebotics PotLuck
Joebotics Bazaar
Joebotics Kitchen
Joebotics Recipe
We Want To Keep In Touch With You!
Sign Up for our mailing list for updates on our progress, cool Maker news and information, along with discounts for our upcoming Kickstarter campaign!